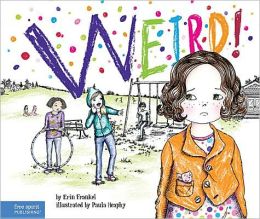 My major focus in my school counseling program this school year has been on bullying.  I have had extensive conversations with my fourth and fifth grade friends especially.
This month, I'm using the book Weird! from the Weird Series with my fourth graders. This series is written by Erin Frankel.  Weird! is one of three books in the series which focuses on the victim's perspective.  The other books, Dare! and Tough! focus on the bystander's and bully's viewpoints respectively.  Each book includes notes from the main character along with activities and reflection questions.
Weird! is about a girl named Luisa.  Sam, from the Tough! book, says everything Luisa does is "weird."  Luisa goes on to give several examples of the things Sam considers "weird."  This affects her so much, she begins to change and stops being herself.  She stops telling funny jokes and decides to stop wearing her favorite polka dot boots. If you look closely at the pictures, you'll notice Jayla from the Dare! book.  She doesn't like how Sam treats Luisa.  Soon, Luisa decides she must change her way of thinking.  She went back to being herself no matter what Sam said about her, and she acted like she didn't care.  She soon noticed that Sam began to leave her alone.
I decided to use the activity "Recycle Your Thoughts" from Luisa's Confidence Club at the end of the book.  Students cut out eight circles, or polka dots.  I  pre-cut several colorful circles from construction paper and made plain, white dots on regular paper.  On four of the dots, students may write some of Luisa's negative thoughts or some of their own.  I made the white dots for this purpose.  On the other four colorful dots, the students change their negative thoughts into positive ones.  They may also decorate them.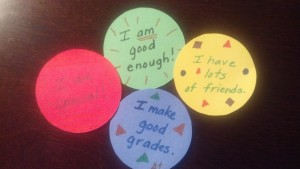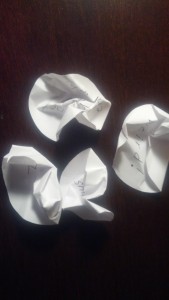 I like that this activity has the students crinkle up the negative dots and symbolically toss them into the recycling bin.  They may then keep their positive dots to decorate a notebook or to hang on the wall in their bedrooms.  They can also tape these dots to their bathroom mirror where they can read these positive affirmations each day.
Stick around!  You can follow Savvy School Counselor with free email updates.  As always, I'd love to hear from you!  Have you used the Weird Series in your school counseling program?  What activities for this book have you used with your students?
Follow @svyschcounselor
Related Posts via Categories