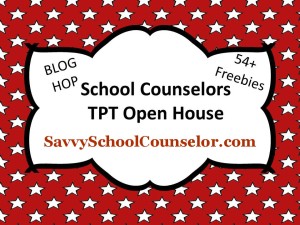 I'm excited to join Heather today for the Teachers pay Teachers School Counselor Blog Hop.  Heather, author of The Helpful Counselor blog, came up with the idea for participants to create posts highlighting their favorite paid and free TpT resources.
The first resource I am highlighting is one of my FREE products.  Tattling Vs. Reporting is my most popular freebie.  I created it for school counselors and teachers to help their students understand the differences between the two words.  Doing this activity helps students learn that tattling is used to get a person into trouble, but reporting is used to get a person out of trouble.  To complete the activity, students cut out ten statements children could make to their teacher or another adult.  They decide which five are necessary to "report" to the teacher.  We report situations to an adult when someone is being hurt mentally or physically or if property is being damaged on purpose.  The remaining five statements are examples of tattling.  Tattling occurs when children tell an adult what another child is doing in hopes of getting him or her into trouble.  The statements are usually problems that could be ignored.  With kids being kids, I don't see the need for the this type of lesson ever going away. 🙂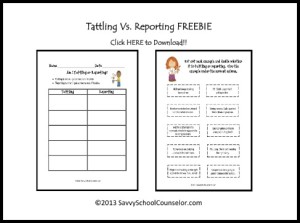 The paid resource I chose to highlight is Good Character is Popping Up Everywhere.  This product has a popcorn theme and sells for $3.75.  It includes 8 character trait display cards and  a character trait paper folding activity similar to the one I wrote about in THIS POST. Each trait and a picture is printed on the outside of each flap.  Under the character flap, students write about what the trait means and give an example of how one would demonstrate the trait.  My Favorite Character Trait is another activity for students to write about their favorite trait, tell how they show the trait and draw a self-portrait. A word search and answer key is also included. There is a Brainstorm and Write sheet which can be used when teaching character traits or many other subjects.  Be sure to check out the preview link for this product on TpT to see what's included.
My bulletin board display ties in well too!  Eight pieces of the popcorn have a character trait on them.  This board is located in the main hallway of my school.  Pictures of students showing good character can be added throughout the school year.
You can check out some other favorites on the right side of this page. ———–>
Be sure to check out posts from the other School Counselor Blog Hop Participants:
Heather – The Helpful Counselor
Tabitha – Scrapbook of a School Counselor
Melanie – The Stylish School Counselor
Colleen – One Stop Counseling Shop
Thanks, Heather, for inviting me to participate!
Stick around!  You can follow Savvy School Counselor with free email updates.  You can also follow my TpT Store to keep up with my latest products and freebies.
Follow @svyschcounselor
Related Posts via Categories