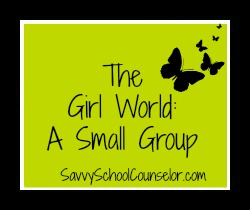 One of my favorite small groups I conduct in my school counseling program is "Surviving and Thriving in the Girl World."  This small group is taken from Diane Senn's Bullying in the Girl's World.  If you don't already have this book in your collection, it is one I would highly recommend to you.  This small group unit is only a piece of what is included in this wonderful resource.
I first used this resource last year in a proactive effort with a small group of 4th grade girls.  I thoroughly enjoyed the lessons.  The format is such that you can give the student survey and create your group lessons around the most immediate needs.  I personally enjoy conducting all ten of the small group sessions and have had a wonderful time participating in the discussion with my students.  The group includes opportunities for role play as well as self-reflection.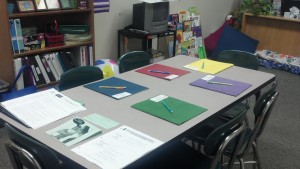 This year, I decided to invite fifth grade girls to the group.  We have met three times so far, and I am enjoying this group just as much as I did last year.  This year I made folders for the girls to keep their handouts in.  There are several handouts which I feel are very important for them to be able to refer back to once our group has concluded.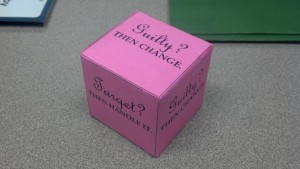 There is a cube to make for the group sessions that is used to facilitate closing discussions.  The cube says "Target?  Then Handle it." and "Guilty?  Then change."  Several of the handouts include suggestions for the girls to use if they are guilty of certain behaviors such as teasing, exclusion, and gossiping.  They also include suggestions for what to do if the girls are the target of such behaviors as well.  The cube is used to allow the girls to take turns facilitating the closing discussion.  During this time, they also make additional suggestions that can be added to the sheet.
Each of the lessons has a specific and worthwhile message and purpose.  Here is a snapshot of two of the group activities.
During the second group session, we discussed what it means to be popular.  It's always interesting to hear the negative connotations that are associated with popularity.  We spent time discussing the many ways one can be popular and that a popular person isn't always someone who is mean.  Here is a quote given in the book used to spark our conversation: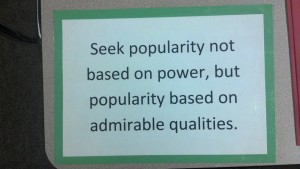 After our discussion, I put a large piece of paper on the table along with markers and asked the girls to write "admirable qualities" they would like to be known for having.  A person possessing these qualities can be considered "popular" also.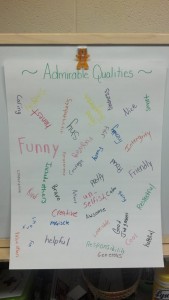 Another session I enjoy is the lesson about reputations.  This is the sixth lesson of the unit.  At this time, we talk about the word reputation and discuss the ramifications of having a bad one.  The girls are able to self-reflect during the mirror activity.  Each girl receives a mirror copied onto card stock and cut out for her ahead of time.  I then share the quote "Mirror, Mirror in my hand.  What is my reputation?  Where do I stand?"  We take time to discuss the quote and the girls are able to share as they feel comfortable about any feelings they have regarding their own reputations.  Afterwards, each girl will write the positive things about her reputation inside of the mirror as well as words she would like others to use when describing her reputation.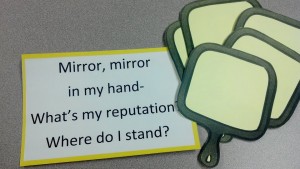 As I said before, I REALLY love this resource and this small group is only one section of this great book.  It includes school-wide suggestions, classroom lessons, and ideas to use with individual students.  I can't say enough about it!  I always say, you can't go wrong with Diane Senn's resources.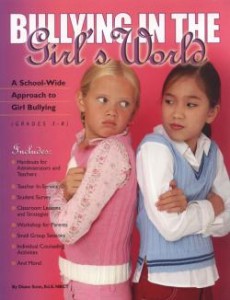 Stick around!  You can follow Savvy School Counselor with free email updates.  As always, I'd love to hear from you.  Have you used Bullying in the Girl's World in your school counseling program?
Follow @svyschcounselor
Related Posts via Categories