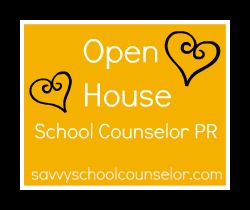 In a previous post, I wrote about Public Relations for School Counselors.  Open House is a great time to promote your school counseling program.  Not only is this important for new school counselors- it's important for veterans as well.  Use this opportunity to let parents know who you are and how you will be involved with their child(ren) throughout the school year.
How you go about it will depend on your assigned duties.  Over the years, I have usually been assigned as a greeter at the school's entrance.  This is an excellent area to set up a small table to advertise your program.  Your table should showcase the different programs you plan to implement throughout the school year. Find a simple table cover and add a sign or banner with your name and title.
On your table, include brochures describing your program, business cards with your contact information, and a sign-up form for small groups that require a parent's permission like Separation/Divorce or Grief Groups.  You can also have your QR code available for parents with smartphones and a small bucket or basket of stickers for students.
This is also a great opportunity to solicit parent volunteers.  If you are hosting Career Café at your school, you can sign-up parents who are willing to come in and share about their profession with your students.  You can also find parents who are willing to serve on your advisory council.  I'd even like to find a parent who enjoys taking pictures. What ever your program needs are, open house is a great time to find your volunteers.  Additionally, be sure to have a small board or poster with post-it notes listing any wish list items you have.  Parents can choose the item they wish to donate to your program and take the post-it note with them as a reminder.
Why not have a free raffle for students who stop by your table?  Find a local business that is willing to donate a free meal, gift card, or sundae.  You may also chose to purchase the prize(s) yourself.  Announce the winner(s) on the first day of school.
Finally, it never hurts to have a fun puppet on hand.  Whether it is on display or on your hand, the students will love to see and interact with it.  Here's a picture of my puppet after her mini-makeover with a new t-shirt featuring our school mascot the falcon.  All she needs now is a yellow headband, and she'll be ready to make her debut!  My friend Ed (also known as "Character" Ed) may need to be on stand-by as well.  The kids LOVE him!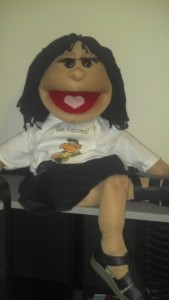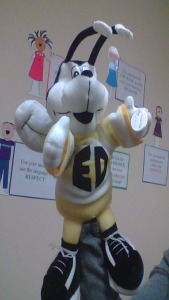 Stick around!  You can follow Savvy School Counselor with free email updates.  As always, I'd love to hear from you.  How will you promote your program at your open house this year?
Follow @svyschcounselor
Related Posts via Categories