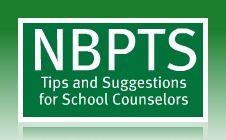 Documented accomplishments are the focus of Entry 4.  In my last NBPTS post, Connecting Entries to Standards, I shared that there are specific school counseling standards for each portfolio entry.  Entry 4 requires you to review standards I, VII, X, and XI.  As mentioned in the previous post, this entry highlights your involvement with the families of students as well as the community.  You will also need to show how you are a learner as well as a leader/collaborator.  With this entry, you can showcase things you do that go beyond what's expected.  You will be allowed to submit a maximum of 16 pages of documentation to support your accomplishments.
Entry 4 is a good entry to begin working on over the summer. Begin by making a list of school-wide events you coordinate in your school counseling program. Also, think of any teams or committees you are an integral part of as well as any staff development you've benefited from. Some examples include but are not limited to the following:
Career Fairs
Hosting a Counseling Intern
Local, State, or National Conferences/Workshops
Middle School Transition Night for Parents
Student Support Team
School-wide Character Education Events
Special Parent Outreach Sessions (ie. Improving student attendance)
For each item on your list, you'll need to ask yourself:  Was I a partner with families and the community?  Was I a learner?  Was I a leader/collaborator?  You'll want to make sure you have at least one accomplishment that demonstrates each area.  It is possible that one accomplishment will demonstrate all three areas which is fine. You can have up to 8 documented accomplishments.  However, you are limited to 10 pages maximum for your writing.  Believe me, you'll wish you had more than 10 pages after you begin writing. Personally, I only focused on four accomplishments.
It is important to note the following:  In the area of partnering with families and the community, the accomplishment(s) will have to take place during the current school year.  The other two areas show your development as a learner and leader/collaborator.  These two areas can go back no more than five years.  For example, a career fair demonstrates your partnering with families and the community.  You'll have to host the event during the current school year and show evidence of the event.  You've demonstrated your  work as a leader if you hosted a counselor intern anytime over the last five years.
If you have printed the portfolio instructions, you will find a categories chart in the Entry 4 section. (page 45- written as 2-39 on the bottom)  This is great to use as you are determining which accomplishments to include.  It helps you to think about each area as you list the activity, the significance of the activity, the impact the activity had on student learning, how it improved your school counseling program, and what documentation you have to show evidence.  It states on the bottom of this chart, "Some activities in which all counselors must engage may not make the best examples of accomplishments for this entry unless you perform them in a way or to a degree that makes them very effective in promoting students' learning and improving your school counseling program."  This is so true, and completing this chart helped me to weed out some of the items on my list.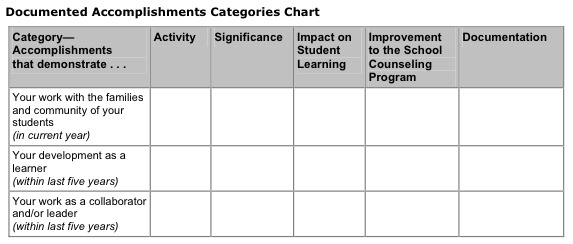 Stick around!  I'll discuss more about Entry 4 in my next NBPTS post.  You can follow Savvy School Counselor with free email updates.  As always, I'd love to hear from you.  Connect with me!
Follow @svyschcounselor
Related Posts via Categories