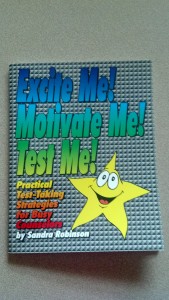 End-of-Grade testing time is just a few weeks away in my state.  One objective of my school counseling program is to assist teachers and students as they get closer to that big week.  My most recent lunch bunch sessions with upper grades have focused on test taking strategies.  A resource I have enjoyed using for a couple of years now is Excite Me!  Motivate Me!  Test Me! by Sandra Robinson.  There are several great activities to pull from this resource.  Because the students are eating lunch, I make sure to pull the activities that center mostly around discussions.  One exception is the card game pictured below. There are 15 cards, and each one has an answer on the top of the card and a question on the bottom of the card.  One of the cards says "start" at the top.  The student with that card reads the first question on the bottom of the card.  The students stay engaged because they may have the answer to the question.  The person with the answer says "I've got it," and reads the answer aloud to the group.  That person will then read the question on the bottom of the same card they just read the answer from.  This goes on and on until the last answer is read. The bottom of that card says "The End."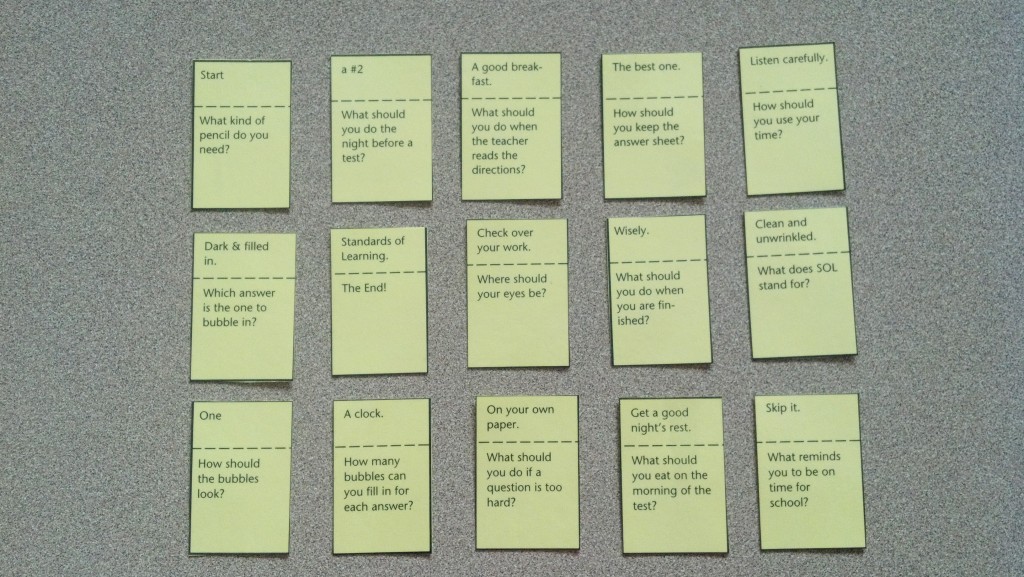 I also use another set of cards which helps facilitate a great conversation.  During this conversation, the students are able to make connections to many of the tips and strategies their teachers have already given them. Many of those teachers would be happy to know the students have retained those tips and are able to share them confidently with the group. These are some of the tips I also used on the test taking foldable.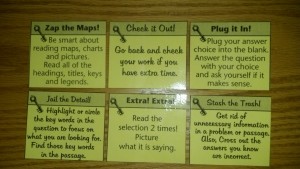 The main message I make sure to give the students before they leave is this:  Do your best, but don't enter testing time worrying about what will happen if you don't get the scores you desire. Many students fear they may be retained if they do not pass these tests.  I don't know about you, but I think those thoughts add an extra level of unnecessary stress to children.  The bottom line is, the tests give just one of the many snapshots of the school year for each of them.  What also matters are quarterly grades throughout the year along with having satisfactory work habits.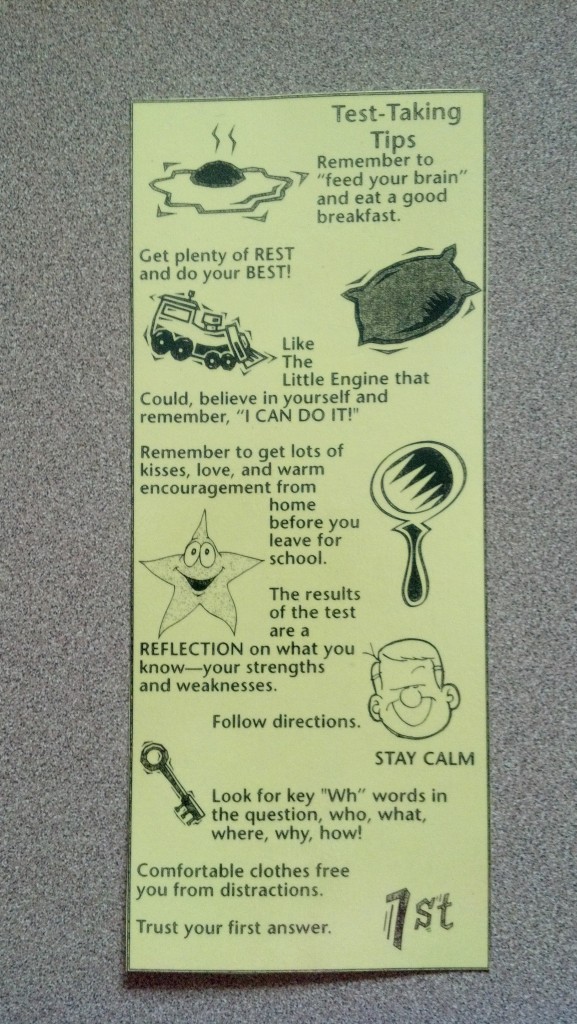 Before the students prepare to leave, I give each of them a laminated bookmark to take.  On the bookmark are important things to remember as they prepare for the upcoming tests.  I like that it says to wear comfortable clothes.  I also tell them to layer.  It's better to have a jacket to put on or take off if necessary.  Being too hot or too cold is definitely a distraction!
I would love to hear from you.  Connect with me!
Follow @svyschcounselor
Related Posts via Categories