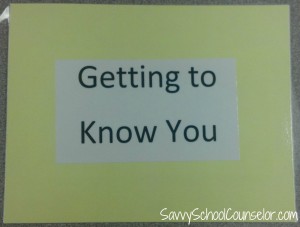 The first lunch bunch sessions I hold with my first through fifth graders are "Getting to Know You" sessions for new students to our school.  Teachers choose students from their classes who they feel I should get to know.
At the beginning of the session, I showed students the self-referral forms on my door and talked about how to make an appointment with me.  I also shared my School Counselor's First Aid Kit.  We talked about their old schools as well as things they enjoyed about their new school.  Then we used my "Getting to Know You" cards.
Ice breaker statements are always a great way to learn more about your students.  They get them thinking, and I've found the students really enjoy sharing about themselves with me and the group.
I made these "Getting to Know You" cards to use with every grade level.  To make them, I cut a few sheets of card stock into quarters.  I printed and cut out the title for one side of each of the cards.  I also printed and cut out the statements for the opposite side of each of the cards.  I used a glue stick to glue them to the cards and then I laminated them.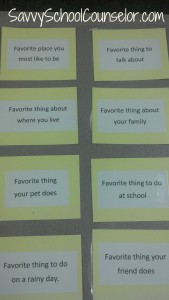 The statements on the cards came from the book 201 Icebreakers.  This book has just about any icebreaker activity you've probably ever participated in!  It has icebreakers for all audiences from children to adults and small groups to large presentations.  I chose the "Favorite Things" activity.
I have used the cards for my new student lunch bunches over the last week and a half.  I read them aloud for my first grade friends and they took turns answering them if they wanted to.  The older students pulled their own cards, read them aloud, and answered them.  I also gave group members opportunities to answer the questions other students pulled.
I really liked that these simple "favorites" sparked wonderful conversations among new friends.  Students were excited to share about the crazy stunts their pets have pulled as well as sharing about their favorite place to be.  I enjoyed getting to know the new personalities.  It was nice to even see the more quiet students open up during the conversation.
You can print the statements and the title for the back of each card by clicking these links:
Getting to Know You- Back of Card
Stick around!  You can follow Savvy School Counselor with free email updates.  As always, I'd love to hear from you.  Have you held any new student lunch bunch groups?  What did you do with your students?
Follow @svyschcounselor
Related Posts via Categories