Did you know building academic vocabulary increases student achievement?  Of course you did!  School counselors play a key role in vocabulary development.  We discuss vocabulary all the time in our classroom guidance lessons, but how can we take it a step further?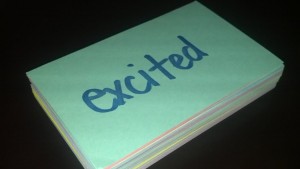 Several years ago, I received this great deck of cards already prepared for my use. The deck of cards contains a variety of character descriptions in addition to words that describe feelings.  The words on my cards are geared more toward upper elementary grades.  They are definitely appropriate for middle school students as well.  Of course the activities in this post can be adapted for lower grades also by using words suitable for younger students.  Using these cards is a great way to build vocabulary which can be very helpful for students when end-of-grade testing time rolls around.
To make them, you'll need a pack of one hundred 3 x 5 index cards in multiple colors. On each card, you will write words that describe a person's character or how a person might feel.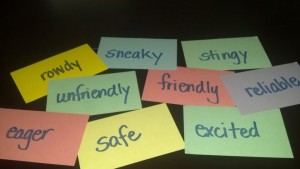 Click here to view and print a list of words to use.
How You Can Use Your Deck of Cards
Categorizing

– This activity can help you check for prior knowledge of the vocabulary at the beginning of the school year.  Number twenty of the cards on the back anywhere from 1-20. (These words are in bold on the PDF document.)  First, place those twenty cards on different desks and/or tables throughout the room.  Next, divide the remaining cards in the deck among small groups of 2-4 students  until they are all given away. Then, each group will decide which desk or table each of their words best fit.  For example-  Your group goes to the first table or desk and you see the word "unfriendly."  Your group has the following words: lazy, thankful, clever, harsh, scared, silly, impolite, and active.  Your groups decides that an unfriendly person can be "harsh" or "impolite."  Your group leaves those two cards on that desk and move on the the next desk and vocabulary word.  

After the students have categorized their cards, you can use a couple of the vocabulary sets for discussion.  During this time, you will get an idea of which vocabulary words the students really need to learn more about.  This will help you with the next activity.
Vocabulary Building

–  Use the cards to help build student vocabulary during your guidance lessons.  Each time you visit a class for guidance, bring 2-3 word cards to share and discuss with your students.  Even as school counselors, we can assist teachers with increasing the vocabulary knowledge of students   As a former classroom teacher and as a parent, I've learned that many times not understanding the vocabulary causes a student to choose an incorrect answer.  These words often describe the main character's feelings or traits they have displayed throughout the passage.  Therefore, adding a few vocabulary words to your guidance lessons can't hurt, right?  In order to build vocabulary, we have to infuse it in all subject areas.  That includes guidance!
Role Playing–  This would be great to do near the end of the school year after you've infused these vocabulary words into your guidance lessons.  Divide students into groups of three or four.  Give each student a card.  Have the group create a short skit where each student acts out the trait or feeling on the card during the performance.  The remaining students will try to guess which trait or feeling words the group used.  In this case, it would be great to have a word bank for students to refer to.  
Use activities such as these to really play an active part in the vocabulary enrichment of the students at your school.
Stick around!  You can follow Savvy School Counselor with free email updates. I would really love to hear some other ideas on how to use this deck of character cards as well as additional words you would include.  Tell me what you think!  Leave a comment below.
Follow @svyschcounselor
Related Posts via Categories