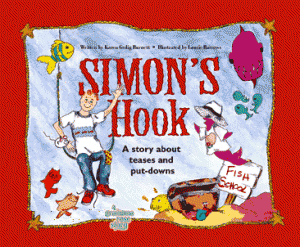 Simon's Hook is a wonderful book about how Grandma Rose teaches Simon to deal with teases and put downs.  It is one of my favorites to use with my second graders.  However, I keep it on stand-by for individual counseling sessions across grade levels as well.  The author, Karen Gedig Burnett, takes an all too real problem for children and gives them a very clever approach to dealing with it.  Simply put… Don't bite the hook!  You see, this book uses fish to illustrate how to handle the problem of being teased by others- the fishermen.  Burnett, or Grandma Rose I should say, gives five important rules to help encourage the fish to stop biting the hooks:
Don't React to the Hook
Agree With the Hook
Laugh or Joke About the Hook
Distract the Fisherman
Swim in Another Part of the Sea
There are lots of laughs as I read the responses the fish give the hooks as they learn each of these strategies. The goal for students is to remain a "free fish" although the "fisherman" are always throwing hooks to catch them.  I always ask students who have been fishing before to explain what they  do if the fish aren't "biting."  More often than not, the fisherman will find another spot to fish. See the connection?
One key message in this book is to NOT throw hooks at the fishermen.  I always make sure to remind students that saying mean things back to others doesn't make them "free fish."  Instead, they also become fishermen.  When we finish reading the story, I "throw some hooks" using examples given at the end of the book and give students a chance to respond using one of the strategies discussed. If you don't have this book, I promise you will not be disappointed.
Karen Gedig Burnett also has a wonderful website called GrandmaRose.com which has extra activities to use with this wonderful book.
This is just one of the lessons I have incorporated in my school counseling program regarding bullying in addition to using the Steps to Respect curriculum.
Stick around!  You can follow Savvy School Counselor with free email updates.  You may leave any comments here or visit my contact page to email me directly.  As always, I'd love to hear from you.  Connect with me!
Follow @svyschcounselor
Related Posts via Categories