I was determined to find a new way to review test taking tips with our third graders this school year.  As everyone knows, this is their first year taking the "Big Test."  In the past, I have worked with third graders in small groups using student data for my ASCA National Model plan.  This year, the teachers requested a testing tips classroom guidance lesson for all of the students.  After looking through one of my favorite testing resources (Excite Me! Motivate Me! Test Me! by Sandra Robinson) along with Tyler Tames the Testing Tiger by Janet Bender, I created this Testing Tips Foldable.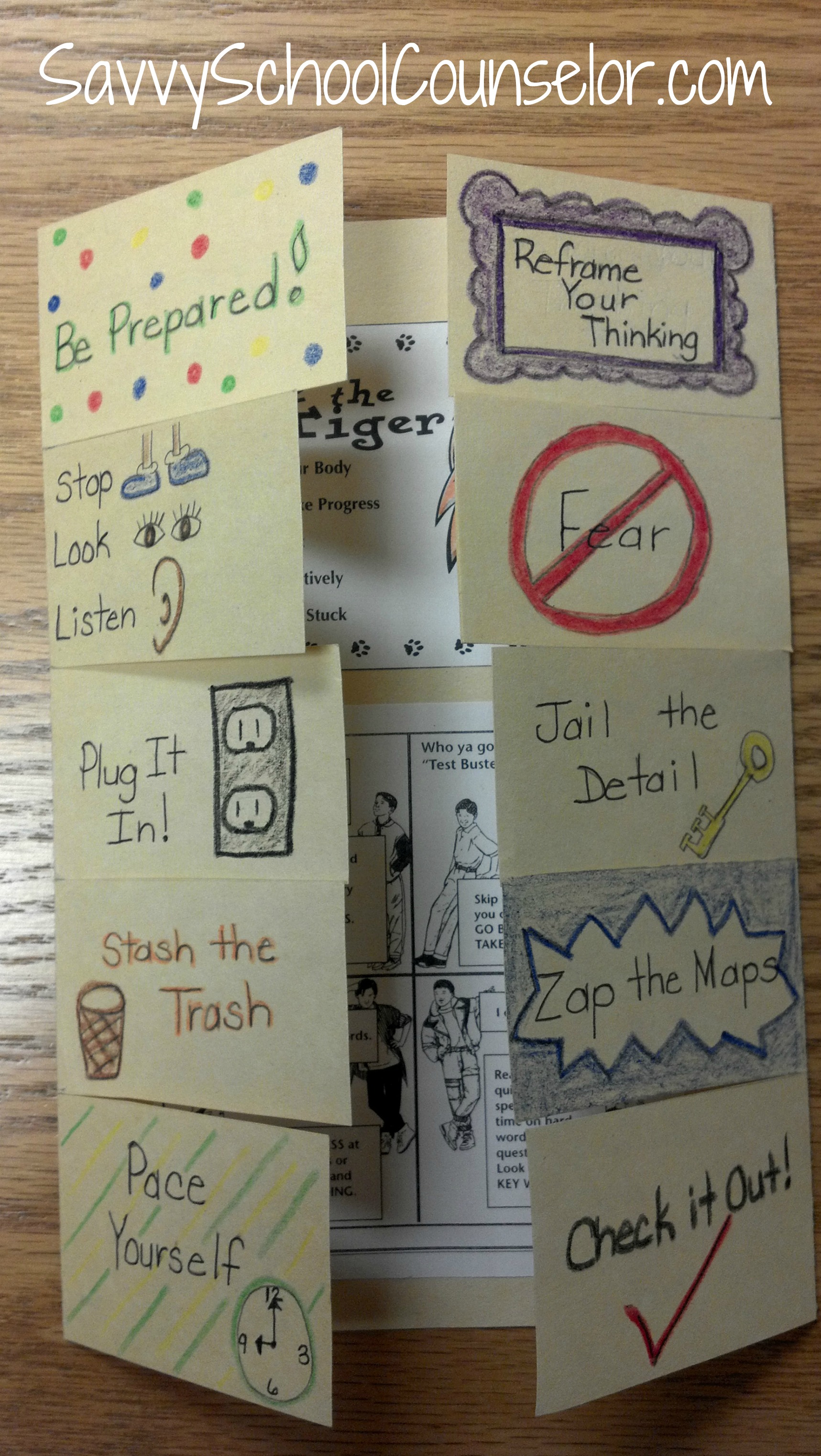 Both resources give many similar test taking tips.  Tyler Tames the Testing Tiger includes ten test prep cards.  I used a few of the test prep suggestions from Tyler Tames the Testing Tiger to create five of the flaps, and I used five of the discussion cards from the back of the Excite Me! Motivate Me! Test Me! book for the other five.  Here's an explanation of each tip:
Be Prepared–

This flap is where the students wrote important things to do like getting a good nights rest the night before and having a good breakfast the morning of the test.  They also included having number two pencils .

Reframe Your Thinking–

Some students don't believe they can do well on the test.  This flap includes positive self-talk such as  "I can do it" and "I am ready for the test."

Stop, Look, and Listen– This flap reminds the students to be still, look at the test administrator, and listen to the directions.
No Fear– Many third graders are nervous about the unknown.  They also fear they will not go to fourth grade if they don't pass.  As they wrote notes on the back of this flap about not being afraid and doing their best, I told them that these tests are just a small piece of data used to determine whether or not they will go to the next grade.  I also told them it is important to work hard throughout the school year because their quarterly grades are just as important.
Plug it In– This flap reminds students to use each of the multiple choice answers to fill in the blank.  Some won't make sense and will help them narrow their choices down.
Jail the Detail– This flap reminds the students to circle or underline the key words in a test question.  They can look for the key words in the reading passage or determine how to solve a math problem by using this tip.
Stash the Trash– Many times, there are sentences included in test questions that really aren't important.  This tip reminds students to cross out any unnecessary information.  This includes answer choices they already know don't belong. This tip can also be called "Slash" the Trash.
Zap the Maps– Students sometimes don't look closely at keys and legends on standerdized tests.  They will see a chart with four triangles and say the answer is four. However, one triangle equals 3 according to a key near the chart.  This makes the answer twelve.  This tip reminds them to pay attention to the key of a chart, graph, or map.
Pace Yourself– Our students are given PLENTY of time to take their tests.  That being said, they need to pace themselves.  This just means not rushing through the test and also watching the time and making sure they are not going too slow as well.
Check it out– This last flap remi

nds students to check over their answers when they have completed the test if there is time left.  If they have a bubble sheet, it's also good to check it for stray marks.
Inside the foldable is a bulletin board idea from the "Testing Tiger" book (which I made a smaller version of) and four additional helpful tips for students to refer to as well from the Excite Me! book.  I used manila paper, made copies so lines would already be there, and pre-folded them. The students only needed to cut the lines to make each flap, and we were ready to begin.  Although the students were exited to decorate and add some "flavor" to the foldable, our class time focused on content.  They had time near the end to draw and color.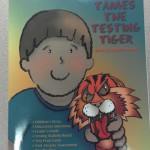 The former teacher in me can't help but love the idea of using foldables in the classroom.  After I discovered them, I just had to find a way to incorporate a few into my school counseling program.  This is my first attempt, and I was excited to see it all come together. I'll be sharing another one soon, so come back! I'd love to hear from you regarding test taking activities you've used.  Connect with me!
Like this idea but not sure how to make it?  No time to purchase the two resources mentioned in this post?  Visit my Teachers Pay Teachers Store to purchase two versions of my template for just $3.50. All you'll need to do is choose your 8.5 x 11 paper and copy!  The lines are provided for your students along with my very own tips for the inside!  (
Please note- the product in my store can NOT have the same pictures on the inside as the example here on my blog due to copyright.  If you want the comics seen on the original project up top, you will need to purchase the two books mentioned and make the project from scratch with your students.

)
Test Taking Scoot is also a fun to review and involves movement.
You may also like this Testing SMART Bingo Game.  It's available for whole class or groups.  My Test Taking Board Game is also a great test taking tips reviewing tool.
The three products come in a Test Taking Bundle for a 20% savings.
ETA:  So after the fact, I realized I said there were only 8 tips, but low and behold there are 10!  Too late to change the blog title now, or no one will EVER find it! 🙂
Stick around!  You can follow Savvy School Counselor with free email updates.  You can also follow my TpT Store to keep up with my latest products and freebies
Follow @svyschcounselor
Related Posts via Categories