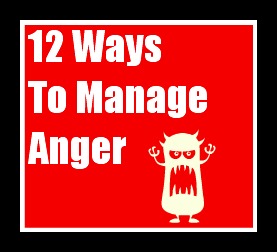 A common issue I deal with in my school counseling program is assisting students with anger management difficulties.  I discuss this issue with all students, Kindergarten through fifth grade.  I know you have all heard different anger management tips and have shared them with your students.  As I prepare for my anger management groups for next year, I wanted to also think about an activity I can do with individuals who are referred to me out of the blue.
I made a puzzle using our schools VariQuest cutout maker which can cut just about any shape you can imagine.  As I was looking through some of the cutout options one afternoon, I came across a puzzle template and cut it out. Since there were twelve puzzle pieces, I decided to put an anger management strategy on each piece.  I didn't want the puzzle to be difficult, so it is not hard to figure out by any means.  I only want it to be a tool to share with individuals or small groups to spark discussion.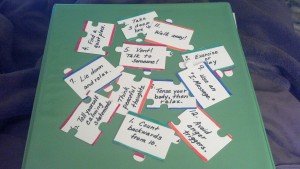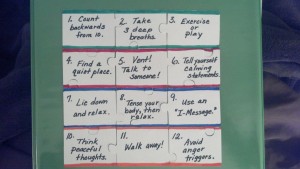 After we discuss the strategies on each puzzle piece while putting the puzzle together, I will have the student(s) make this anger management flip book foldable.  Once completed, the student(s) will have strategies to refer to that work for them.  The flip book only requires five strategies.  Every tip doesn't work for everybody, so the students will be able to choose the five strategies they feel will work best for them.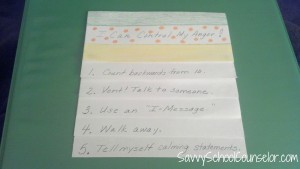 To make this flip book, I took two sheets of 8 1/2 x 11 paper and cut them in half.  I used three of the four halves.  I layered the three sheets.  I picked the sheets up and folded the top half over until I had six flaps. This foldable can be stapled at the top once or twice to keep it together.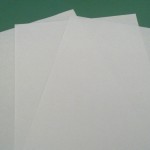 I will have the students write a strategy at the bottom of each flap (except for the top flap where they will write the title).  Above each strategy (but under the flap) they will describe and/or illustrate the strategy.  This will depend on what the strategy is.  The "I-Message" strategy would need to have a sample I-message written, while walking away can be illustrated.
I used the book How to Take the Grrrr Out of Anger to assist me with most of the tips. However, many of these tips are universal from one anger management book to another.

The 12 anger management strategies are:
Count backwards from 10.

Take 3 deep breaths.

Exercise or play to let off some steam/energy.

Find a quiet place.

Vent!  Talk to someone!

Tell yourself calming statements. (It's okay.  Keep calm.  Relax.)

Lie down and relax.

Tense your body- then relax it. (Repeat)

Use an I-Message. (I feel angry when you ___.  I want you to ___.)

Think peaceful thoughts. (relaxing by the pool, holding your pet, hugging a parent)

Walk away.

Avoid anger triggers.
What activities do you have on stand-by for that student who comes to you before having time to calm down?
Be sure to check out my Teachers pay Teachers store for an Anger Management Activity Pack which includes a foldable, 8 anger management strategy posters in two styles (total of 16), and an I-Messages Activity for $3.50.  You can also find The Anger Games which includes a BINGO game and cootie catcher for $3.00 and my Calm Down Pack with task cards, activity sheets and a booklet for $4.00.  The Anger Control Files are the newest edition to my anger management activities.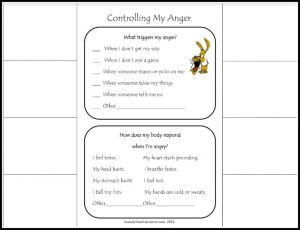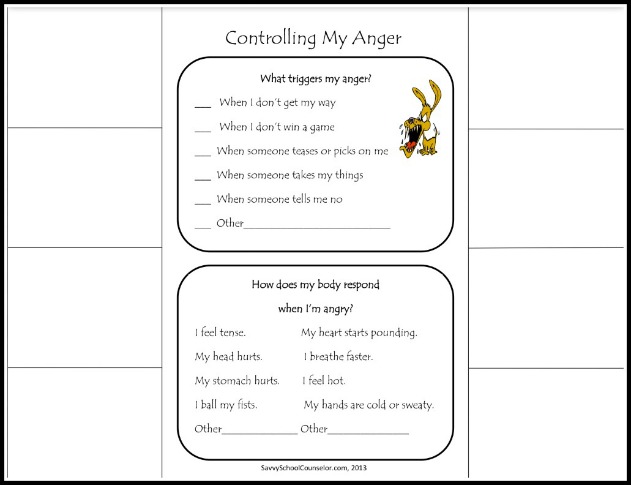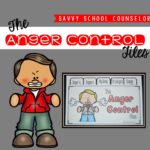 Stick around!  You can follow Savvy School Counselor with free email updates. Also, be sure to enter the Character Readers and CD Giveaway which ends at 11:59 P.M. EST on Friday, June 15.  You may leave any comments here or visit my contact page to email me directly.  As always, I'd love to hear from you.   Connect with me!
Follow @svyschcounselor
Related Posts via Categories