If there is one area I want to see grow in my school counseling program, it is college and career readiness.  Today, I am sharing a great resource and a bulletin board idea.
First, I want to share a book from Youthlight.  Lisa King authored a great resource called How to Create a College Day.  It was created specifically for grades 3-8 so it can be used by both elementary and middle school counselors.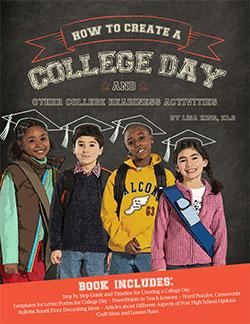 This resource includes a CD.  It provides a timeline for creating a college day along with lesson plans and activities.  It also includes ideas for bulletin boards and decorations.  Letter templates and forms are already created for you, and the CD includes powerpoints for both a classroom lesson and a stakeholder's presentation.
A Pre/Post Test is included for gathering data.  There is also a list of suggested speakers for the event.
I like the idea of students "choosing courses" which is how they determine which speakers they would like to hear.  I also like the college day lunch idea where students invite a family member who attended or attends college to come have lunch.  Everyone is encouraged to wear their respective college gear.
There are so many great ideas:  craft activities, reproducible sheets, door decorating ideas and college readiness articles.  I believe the ideas in this book could also be used when planning a career day.
If you are planning a college day or college week at your school, this book is an excellent resource and a great guide.  I am so excited to use it!
Bulletin Board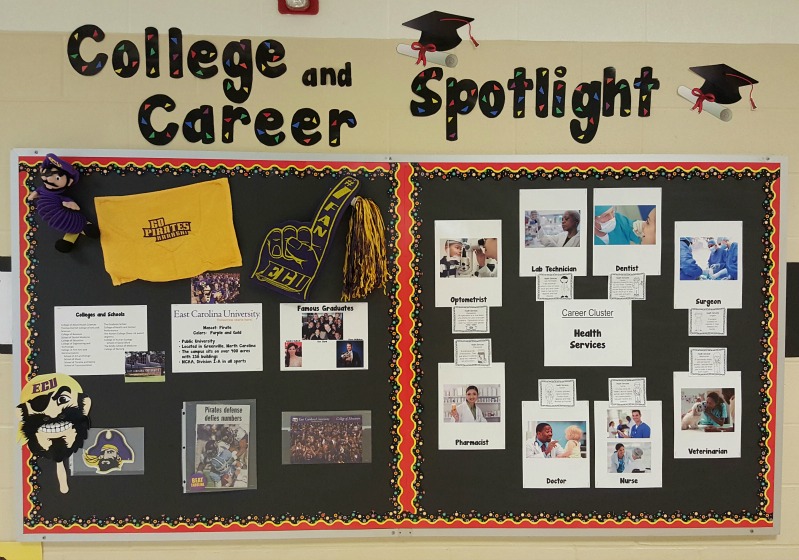 This bulletin board is a display I plan to change at different points throughout the school year.  I got the idea from a school counselor I follow on twitter.  (@LFESCounselor)  She created a board similar to this at her school that she changes weekly.  Be sure to check her out on Twitter.  She shares lots of great pictures and ideas from her program.  My time always tends to get away from me, so I named my board "College and Career Spotlight" so I wouldn't keep missing a weekly deadline…lol.  (Note to self…It's time to change the board!)  I think it's been well received.  I started by creating and sending a google form requesting the names of colleges and universities attended by our staff.  The colleges I spotlight will come from that list.  On the right side, I will focus on an individual career cluster.  Once the new school year begins, I'll be more likely to get through all sixteen clusters.  Hopefully I'll get through several some a few before the end of the school year. (Where does the time go?  I don't know how @LFESCounselor does it! lol)
Another way the staff at my school promotes college awareness is by wearing college gear on the last Friday of every month.
Be sure to check out my career products in my store.
Stick around!  You can follow Savvy School Counselor with free email updates.  You can also follow my TpT Store to keep up with my latest products and freebies.
Follow @svyschcounselor