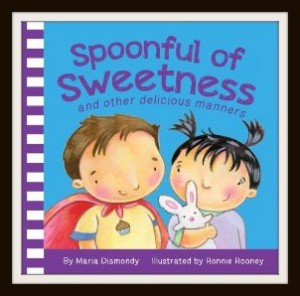 I am excited to participate in the virtual book tour for author Maria Dismondy's latest book, Spoonful of Sweetness: and other delicious manners.  You may know Maria from her books Spaghetti in A Hot Dog Bun, The Potato Chip Champ and Pink Tiara Cookies for Three.  She also co-authored The Juice Box Bully: Empowering Kids to Stand Up For Others.
Maria's adorable new board book was created for children ages Birth – 3 years old.  I love her use of character traits throughout the book which stresses the importance of instilling good character in children at an early age.  Kindness, Friendship, Responsibility, Empathy, Respect and Courage are all included with the cutest illustrations for the youngest eyes.
Click below to view the Spoonful of Sweetness book trailer.
Maria Dismondy is a #1best-selling children's book author, former teacher, and highly sought-after speaker. Spoonful of Sweetness is her 5th children's book.  Maria has a passion for spreading an anti-bullying message and making a difference in her writing, public speaking, blogging and charity work. She lives in southeastern Michigan with her husband and children. To find out more about Maria and her award-winning books, visit 
www.mariadismondy.com
.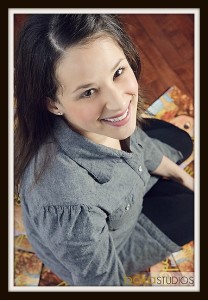 CLICK HERE to check out Maria's book on Amazon.
Congratulations to Maria on the birth of her third child, a son, on December 30, 2013!
If you would like an autographed copy of Spoonful of Sweetness, you may enter my giveaway below.  There will be one winner.  The giveaway will be open until 12:00 AM EST on Wednesday, January 22.
a Rafflecopter giveaway

Stick around!  You can follow Savvy School Counselor with free email updates!
Thanks so much for stopping by!
Follow @svyschcounselor