Teachers pay Teachers is having it's quarterly site wide sale today and tomorrow.  Use the code TAD13 to receive 10% off of your total purchase.  I have added an additional 15% off in my store on all products, for a total of 25% off any purchases made today and tomorrow.
I recently added a new product called Feeling Faces which focuses on the four "staple" feelings: happy, sad, angry, and scared.  To give you an idea of what the product is like, I created a freebie to share here with you.  Click the picture below to download. (Thank you so much to a reader who caught a type-o in the last sentence!  The PDF has been fixed! It's amazing how you read over and read over things, but they still slip by!)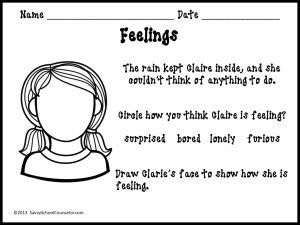 Students read the sentence and decide how the character is feeling.  They circle the feeling word and draw the face on the character showing how he or she is feeling.  On the second page, students write about a time they felt the same way along with three sentences telling what they can do if they ever feel that way in the future.  The product includes four sets similar to this freebie.  Be sure to check them out!
Stick around!  You can follow Savvy School Counselor with free email updates.  You can also follow my TpT Store to keep up with my latest products and freebies.
Follow @svyschcounselor