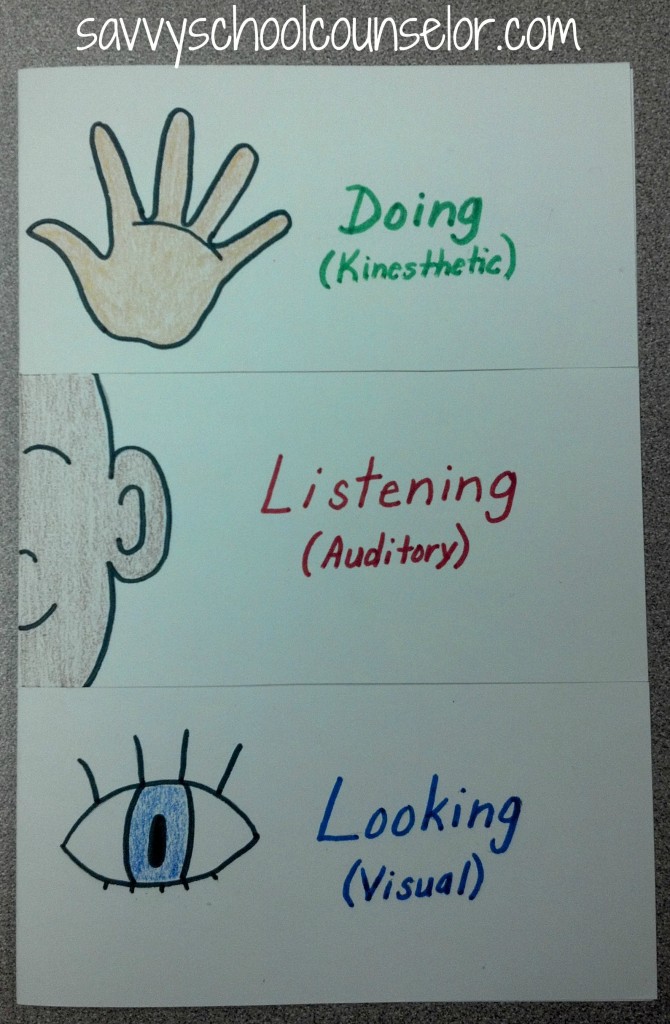 This week, I am working with my fourth grade friends for the first time this school year.  Over the years, I have incorporated the learning styles into individual school counseling and in my small groups for academic advisement.  This year, I decided to introduce the learning styles to my fourth graders in order to get them thinking now about how they learn best.  I worked with my first class today, and it went very well.
Knowing that all students learn differently, I thought fourth grade would be a good age to introduce learning styles and to help students understand why knowing their preferred learning style(s) can be beneficial to them.  The students seemed very interested during our discussion today.  It was nice to see some of them react when they connected with one of the learning styles as we discussed them.
I decided to create a basic three-flap foldable.  As usual, I made sure my lesson targeted each of the learning styles as well.  This is the same group of students I created the Test Taking Foldable for last year.  I explained that I wanted their new foldable to be another in which they could refer to as necessary.
I gave them a 9×11 sheet of manilla paper.  They folded the paper in half and divided the cover into three equal sections by drawing two lines.  Some simply cut across twice to make the three sections without drawing the lines.  While students were cutting, those who were ready were instructed to draw a hand on the first flap, an ear on the second flap, and an eye on the third flap.  Once everyone got to this point, we were ready to begin our discussion about the three learning styles.  I began my discussion by connecting the three pictures to how we learn.  Using the document camera, I displayed my sample foldable so they could label each flap.  I included two words for each picture: "Doing" for Kinesthetic, "Listening" for Auditory, and "Looking" for Visual. I used both words as I described each learning style.
Behind each flap, the students wrote the meaning of each learning style.  I used the meanings from an activity sheet from Diane Senn's book Spectacular Guidance Activities called "Which Way Do I Learn?"  These were already written behind each flap on my sample, so I opened each flap one at a time so they could transfer the the meanings onto their foldables.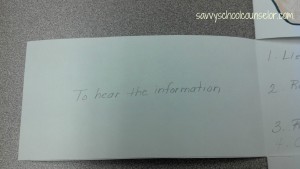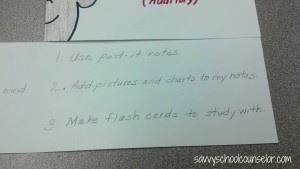 On the right side, the students wrote the tips I shared for each learning style.  I continued to refer to the "Which Way Do I Learn?" sheet as well as another chart from the book Academic Advisement Program.  We talked about several tips and how they can be used to help students study and learn throughout the school year.  I also talked about how their teacher creates lessons with these learning styles in mind.  Near the end, I asked student volunteers to tell the class how I incorporated the three learning styles into my lesson.  I shared that I am more of a visual learner and talked about the things I do that help me.  I even shared my "Which Way Do I Learn?" sheet in which I used three different colors to highlight the three learning style examples on my sheet to use during my discussion.  The students were able to see that as a visual learner, the colors were helpful for me as I taught the lesson.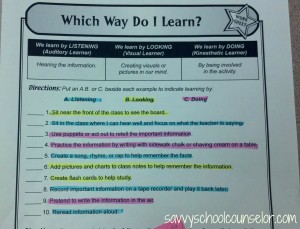 I'm looking forward to visiting the remaining four classes to do this lesson.
You can find a template for this activity and a Learning Styles Cube Game in my TpT store.
Stick around!  You can follow Savvy School Counselor with free email updates.  As always, I'd love to hear from you.  How do you teach your students about the 3 learning styles?
Follow @svyschcounselor
Related Posts via Categories