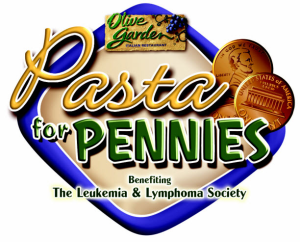 A service learning project my school counseling program coordinates is Pasta for Pennies.  You may also know it as Pennies for Patients.  The Leukemia and Lymphoma Society teamed up with Olive Garden to present this great fund raising campaign for children with blood cancers.  Our school has participated in this worthwhile campaign since 2013.  This is our third year.  We've been very proud of how much we've raised  each year.  In our first and best year so far, our elementary students raised almost $3,000 in three weeks!  We are currently in our final week of this year's campaign.  If you've never heard of Pasta for Pennies, or if you have and just haven't participated, I want to share a little bit about how it works.
Everything you need to run the campaign is provided for you.  This includes the collection boxes for classrooms and students, posters for classrooms to chart how much money they have raised, daily announcements to read each day, ideas you can use to help increase donations and much more!  A Peanuts DVD, Why Charlie Brown, Why, is also provided to help young students get a better idea of what they are really raising the money for.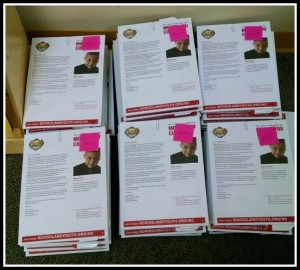 Campaigns last for three weeks.  Before you begin, you will receive boxes with all the materials you will need to run your school's campaign.  You will have letters to send home with each of your students along with individual collection boxes for each child.  You'll have classroom collection boxes to assemble and labels to affix to the front of each box.  I usually put the last name of each teacher on the labels.  I also label one for the office and one for the cafeteria.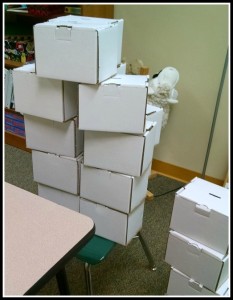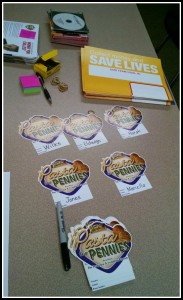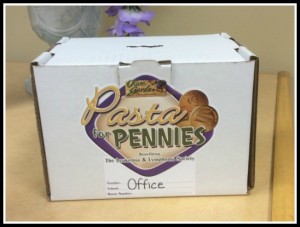 This year was the first time we had a campaign kick-off assembly.  Our area's Senior Campaign Manager came to speak. With the help of students, she gave a visual example of the white and red blood cells and platelets in the body and what happens when cancer cells cover up and crowd out the healthy cells.  Captain Chemo (a teacher volunteer donning a cape and wig) finally came to save the day.  She went on to explain how the money our school raises will be used to help kids fight blood cancers.
Our campaign will end this week.  In our first two weeks, we've raised over $1,500!  I'll do my final collection at the end of the week to find out our final 2015 total.  Which brings me to counting the money.  This is probably the most challenging part of the campaign.  The good thing:  Our local bank has a coin machine.  The challenge:  I have to transport all of the money each week and pour the coins into the machine one classroom at a time in order to record the individual totals.  This can be a little time consuming, but I'm always excited to see the end result.  Additionally, I count the dollars and record the amounts for each class ahead of time so I can just hand them to the teller.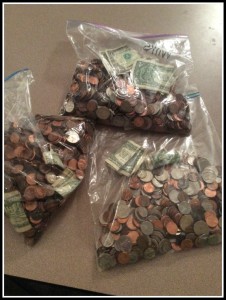 Classes earn Gold, Silver and Bronze Champion pennants for raising $300, $200 and $100 respectively.  The class who collects the most money during the campaign wins a pasta lunch catered by Olive Garden.  The restaurant delivers salad, bread sticks and spaghetti to the school.  Which brings me to a great perk:  I help the teacher of the winning class serve the lunch.  So, I get to enjoy the Olive Garden lunch each year!  It's a really delicious perk!
Pasta for Pennies is an excellent service learning project.  It is a great way to instill good character in your students as it reinforces kindness, compassion and generosity.  So if you haven't already, think about participating in this great campaign.  It is truly for a worthy cause.
Stick around!  You can follow Savvy School Counselor with free email updates.  You can also follow my TpT Store to keep up with my latest products and freebies.
Follow @svyschcounselor