Today, I'd like to share a book I've used when teaching kindness.  Rosie's Roses, by Pamela Duncan Edwards, is an adorable book about Rosie the Raccoon.  Rosie has four roses for her Aunt Ruth's birthday present.  While on the way to deliver them to her Aunt, she discovers she is missing a rose – not once but three times.  When she realizes her roses are being used by Mr. Rat, Mr. Rabbit, and Mrs. Robin, she's not so happy at first.  However, Rosie goes on to show kindness to each of the animals after she learns why they needed the roses.  With one rose left for Aunt Ruth, Rosie goes on to show her greatest act of kindness with her fourth and final rose.
During the last TpT sale, I purchased a cute unit about Kindness from a seller who teaches first grade.  There are several pieces to pull from it, but I used just a couple of them for this lesson.  After reading the story and talking about the ways Rosie showed kindness, I used an activity where the students read different sentences aloud to the class and decided whether the act was kind or not kind.  The unit included the "kind" and "not kind" signs which I copied onto card stock, laminated, and taped inside two small buckets. There are 12 cards with sentences to use for this activity.   Student volunteers came to the front, read the card aloud to the class, and decided which bucket their cards should be placed in.  This allowed us to continue to discuss examples of kindness.  Four of the cards gave examples of not being kind.  Most of my first graders love to volunteer and participate, so this lesson has been a hit with them.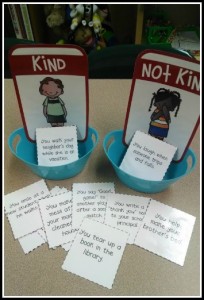 After the lesson, I left the students with a writing activity which also came from the unit.  They were asked to write about and illustrate a time they were kind.  I visited one of the classes the following day to find their writing hanging from a display cord, so I took some pictures to share.
It's nice to find activities like these to help complete a school counseling lesson.  I really enjoyed doing this with my students.
Stick around!  You can follow Savvy School Counselor with free email updates.  You can also follow my TpT store for alerts about my new products and freebies.
Follow @svyschcounselor