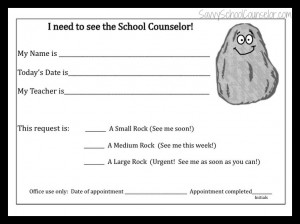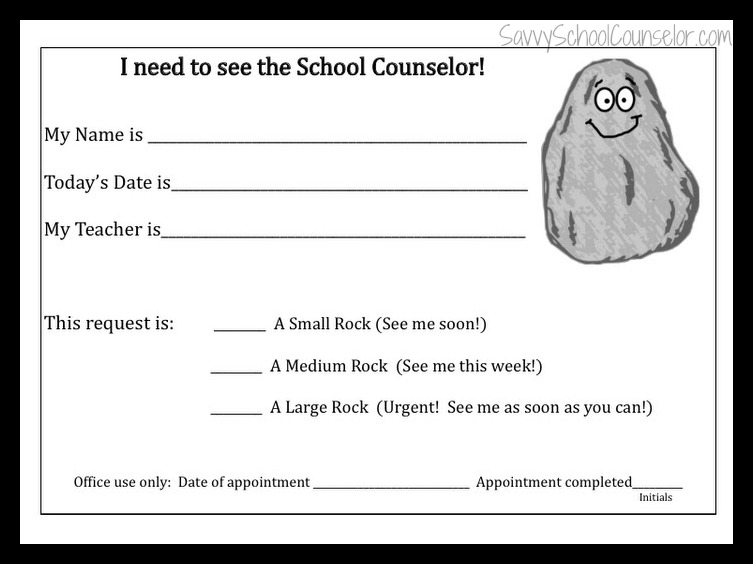 Many times throughout the school year, students will need and want to visit the school counselor to discuss their problems.  I mentioned a form I use in a previous post which uses "rocks" to help describe the urgency of the referral.
My original form included pictures which I couldn't post for distribution because of the copyright, so I chose a picture of a rock from a free clip art site, www.clker.com, for the purposes of sharing the form here.  Click HERE to print the form.
Students can select one of the following options:
A Small Rock  (See me soon!)
A Medium Rock  (See me this week!)
A Large Rock  (Urgent!  See me as soon as possible!)
As I receive forms from students, I will write an appointment in my calendar and then write it on the form.  Once I see the student, I will check or initial that the appointment has occurred for documentation purposes.  I then store these forms by grade level in a plastic file organizer.
I also created a small 8.5 x 11 poster explaining and listing  some examples.  This helps so students don't check "Large Rock" when they need to work on making friends or disagree with a teacher.  This can be printed with a border or you can back it with a nice patterned paper. Click the picture below to print.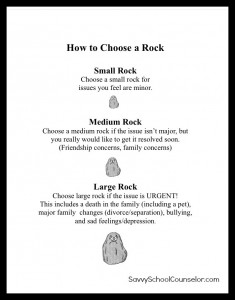 Stick around!  You can follow Savvy School Counselor with free email updates.  As always, I'd love to hear from you.  Do you tend to have a large number of student self-referrals at your school?
Follow @svyschcounselor
Related Posts via Categories