Getting my school counseling office situated has been a slow work in progress.  However, I did want to share just a few photos.
First, I have been SO excited to put up this awesome display created by Susan Fuller at Entirely Elementary School Counseling!  I can't tell you how thankful I am to her for generously sharing all of the words she created along with the quotes.  I printed the words onto colored card stock, had them framed with black construction paper (since they were going on a white wall), and had them laminated.  I love how it turned out!  Thanks, Susan!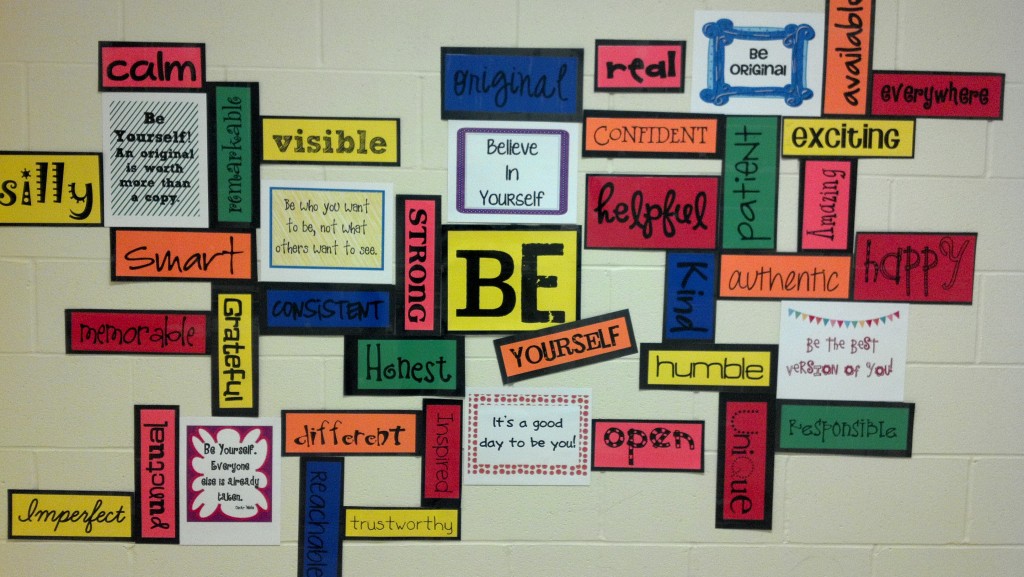 In this next photo, you can see the entire area outside one of my office doors.  I've been putting out the "Take What You Need, Take a Smile, and Today I will be…" pull-tab posters and have had to replace several already.  I even saw that a student teacher had taken some "strength" and taped it to her shirt. 🙂 I've also put a couple in the staff lounge and they are being used as well.  I was inspired by Pam Dyson from St. Louis Center for Play Therapy Training to make these great signs.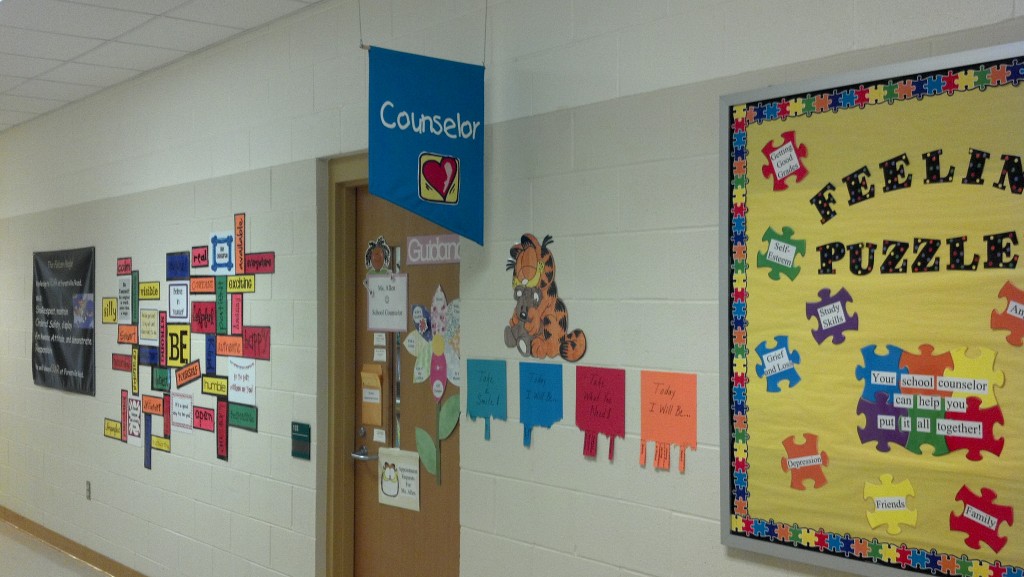 Inside my office, I still have several piles I'm working through, so I only took a picture of one side of the room.  You can see my desk and two extra chairs for guests behind the desk.  When I have individual sessions, I like being able to turn around and talk with students without a desk or table between us.  On the walls I have my "You Are RESPONSIBLE For You!" sign which I've had since I was in the classroom.  I also have several character posters scattered throughout the room as well.  There is a table for six on the other side of the room along with a small portable dry erase board, a mail sorter, and a larger television.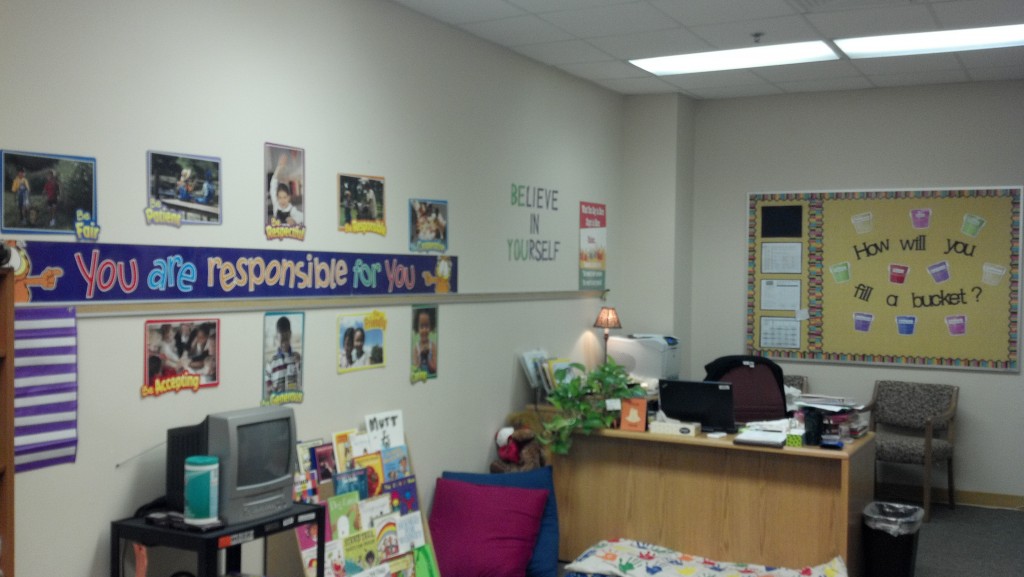 I also put up this bulletin board in the main hallway.  It will soon be the home of 5×7 group shots of students nominated by their teachers for showing the different character traits.  The month of September is when we recognize students showing responsibility.  I will display a group shot of each grade level. (six pictures total)  This board was inspired by this pin on Pinterest.  Each large piece of popcorn has a character trait on it.  I found the real popcorn images on Google, enlarged them, and printed them onto card stock.  To make the popcorn box, I projected the picture onto poster board, traced it with pencil, re-traced it with a Sharpie, and colored it in with a red Crayola marker.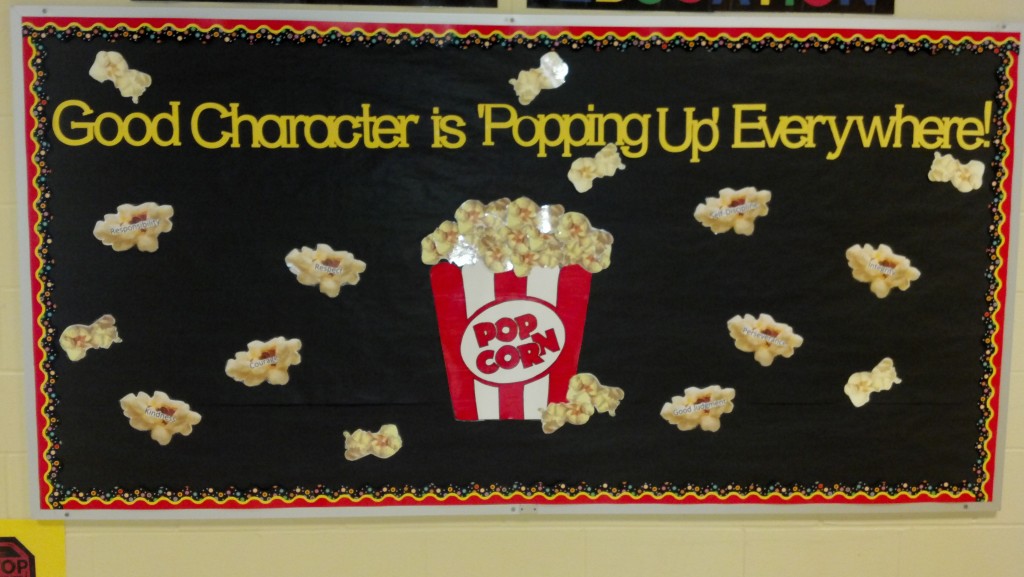 Now that our teachers have finished their beginning of the year assessments, I am ready to begin getting into classrooms.  I am very excited to start meeting with students next week!  I'll be seeing third and fifth grades.  The lessons I'm using have been shared previously on my blog.  For third grade, I'll be using the First Aid Kit along with Annie's Plan to talk about creating a plan for student success.  For fifth grade, I'll do a quick getting to know you activity using my "Who Are You?" thumball.  Students toss the ball and share an answer for what is under their thumbs.  Next, we will be playing the Meet the Counselor basketball game.
Stick around!  You can follow Savvy School Counselor with free email updates.  As always, I'd love to hear from you!  Is your office ready and just like you want it, or are you like me and still slowly bringing it all together?
Follow @svyschcounselor
Related Posts via Categories