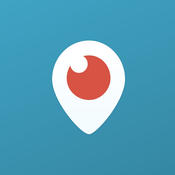 So…this school counselor is nervously contemplating testing the waters of Periscope.  When I tell you I'm a bundle of nerves thinking about it, that's an understatement.  However, I think it's a great way to connect with followers, share ideas and learn as well.
So, I need you to do a couple of things for me:
 Please follow me on Periscope.  My user name is @SvySchCounselor.  Periscope is a free app for IOS and Android.  I had to google "periscope app" when I wanted to download it onto my iPad. I'm not sure if that is still the case.  I was able to find it in the Google Play Store on my Android device.  You'll need to have a twitter account to create your Periscope account as Twitter is the parent to Periscope.
 Please take this quick survey telling me what kinds of content you'd like to see on a Savvy School Counselor Scope.
As I work to overcome my fear of pushing the broadcast button… I'll use your feedback as a guide for mapping my way and helping me decide if I want to go for it.  Also, if you're a school counselor who Scopes, please let me know so I can follow you.
Thanks for your help!
Stick around!  You can follow Savvy School Counselor with free email updates.  You can also follow my TpT Store to keep up with my latest products and freebies.
Follow @svyschcounselor