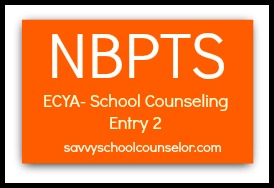 School counselors must deliver a classroom lesson about career development for the second entry for NBPTS.  This entry requires a video segment that is not to exceed 15 minutes.  You can read Pointers for Videos if you need to know more about what is expected.
Nine of the standards must be represented in Entry 2.  I explained how to incorporate the standards into your writing in my post Planning for Entry 1.  Doing this is important so be sure to refer back to that post if you still are not clear about how to do it.
Entry 2 requirements include a maximum of twelve pages of written commentary, the video recording I mentioned earlier, and a maximum of seven instructional materials related to the lesson.  Find a classroom teacher who is willing to allow you to use his or her class for the purposes of this entry.  Send the required student release forms home with students in advance.  You will want to know who does and does not have permission to be featured in your video recording.  Once you know this, you can create a seating arrangement that allows students without video permission to sit in an area behind the camera and still participate in the lesson.  These students can still answer questions and be heard during your recording.
As you begin to think about the lesson you will present to your students, be sure to include the following points as stated by NBPTS:
 show your ability to explain and illustrate an important career development topic;
actively involve and engage the students;
focus on concepts and problems that are challenging and appropriate for the class;
engage students in critical thinking and problem solving; and
show your ability to use appropriate technology to enhance student learning of the career development topic.
My advice is to be creative.  Look for several career lesson ideas and activities and use them to create a lesson that addresses each of these areas.  Just finding a career lesson from a book on your shelf isn't enough.  Think about what you are being asked to demonstrate and create a plan to do just that. To create my lesson, I read through each of the questions for the written commentary and listed parts of questions I would have to answer.  Examples include:
Student competencies you plan to address
Traditional and nontraditional careers
Community involvement
Video:  Determine students' comprehension of the concepts associated with the understanding of the career development topic.
Video:  How will you provide constructive feedback?  (You will need to include your response(s) to students' questions.)
Video:  How will you demonstrate fairness, equity, and access for all students during your lesson?
Video:  How will you use technology?
Video:  Show two different student interactions during the lesson where they are engaged in active problem solving or critical thinking.
In 2008, I used Paws in Jobland to incorporate technology into my lesson.  At the time, our classrooms did not have smart boards or iPads like we do today.  So, I used an aver key and connected my laptop to the television in order to share that portion of the lesson with the entire class.  Your entry isn't all about the technology, you just need to show evidence of how you included it during your lesson.  Don't overwhelm yourself with this piece of the entry.  Just be sure to show some form of it during your video recording.
Also, be sure to think about the career theorist(s) your lesson is based on and be ready to explain how the theory(ies) guided your lesson.
The instructional materials you are required to submit must relate to your video recording.  The materials are not limited to worksheets.  They can include screen shots from websites you used or Power Point presentations.  Your candidate ID number must be present on each page, and pages should be sequentially numbered.  Make sure your content is on one side of each page.  If you use both sides, it is considered to be two pages.  If you use student work samples, make sure names are not included.
Stick around!  You can follow Savvy School Counselor with free email updates.  As always, I'd love to hear from you.  Let me know if you have any further questions about Entry 2.
Follow @svyschcounselor
Related Posts via Categories