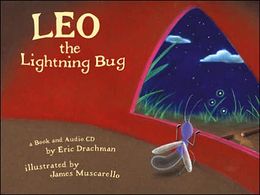 When teaching about perseverance in my school counseling program, I always reach for one of my favorite books by Eric Drachman.  Leo the Lightening Bug is an adorable story of perseverance.
Little Leo is the "littlest" lightening bug of all his friends.  When you look at the cover of the book, can you guess what Leo's problem might be?  You probably guessed it:  Leo can't make his light.  All of his lightening bug friends are able to make their lights.  Leo's mom lets him know he simply needs a little time and practice.
Leo decided to practice making his light, but as much as he tried- he still couldn't light up.  It didn't help things when his friends laughed at him when they saw him.  At this point, Leo is so frustrated that he flies away to a cave and cries.  After some time, he remembers his mother telling him he needed to practice.  Before long, in the midst of a thunder storm, Leo is finally able to light up!  He's so proud of himself that he declares he could be "King of the lightening bugs!"
You'll enjoy reading this story, but you will especially love hearing the story narrated on the CD which is included with the book.  The little voice of Leo will warm your heart, and the sound effects are just great!  You can hear a few excerpts from the book HERE on the Kidwick Books website.
If you don't already have this wonderful book, add it to your list of future purchases!  It's a winner!
Over the past couple of years, I've used this book with my Kindergarten friends.  I always include the song "Never Give Up" from my character song collection.  Initially, I always used it each year with second grade. After reading the story, we would talk about how Leo showed perseverance in the story. The students were given the opportunity to share how they have shown perseverance.  Next, each child was given a sheet with six boxes to create a short comic strip illustrating perseverance.  This idea came from my former intern Rachel.  Here is the sample comic strip Rachel created to help the students understand what to do.  It shows a little girl learning to ride her bicycle.  She falls off, but she gets back on and tries again- showing perseverance.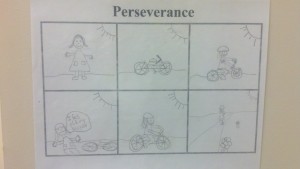 Through the years, I have always enjoyed seeing the comic strips created by the students.   I created comic strip tables for the eight character traits my school district uses.  Click HERE to download this FREEBIE from my Teachers Pay Teachers store.
Stick around!  You can follow Savvy School Counselor with free email updates.  You can also follow my TpT Store to keep up with my latest products and freebies.  Also, don't forget to enter the GIVEAWAY for the Social Skill Builder iPad App!  It ends Friday night at 11:59 PM, and three will win!
Follow @svyschcounselor
Related Posts via Categories