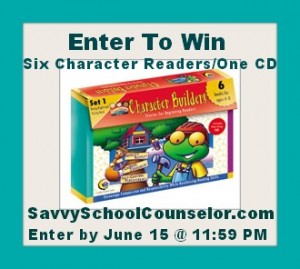 In a previous post titled Pass the Mic: Singing About Good Character, I wrote about how I really enjoy singing songs about character traits with my Kindergarten friends.  I mentioned that the readers can be purchased separately but that they also come in sets of six.  This giveaway is for one set of six character readers which will include one CD.  The CD has three versions of each song. There is the regular singing version, an instrumental version, and a read aloud version.  All six songs in this set align with the traits I teach in my school counseling program.
This great resource will include a CD and one of each of the following books:
Dare to Have Courage- Courage
Would It Be Right?- Good Judgment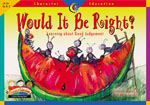 Telling the Truth- Integrity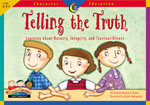 Never Give Up- Perseverance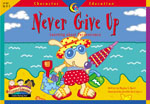 Following the Rules- Respect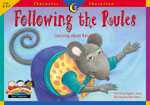 Think Before You Act- Self-Discipline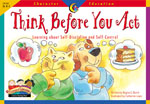 There will be one winner selected to win this prize.  I will contact the winner by email to request the mailing address where he or she would like the CD and readers sent.  I will order and have it delivered directly from Creative Teaching Press.  You may enter this contest by using the Rafflecopter widget below this post.  There are several ways to enter.  You will receive three entries for subscribing for email updates.   Two entries are given for liking Savvy School Counselor on Facebook, tweeting about the giveaway, or pinning this giveaway on Pinterest.  One entry is given for following Savvy School Counselor on Twitter and one for liking this post on Facebook.  Tweeting about the contest can earn two new entires everyday, so be sure to come back for additional entries!
Be sure to enter to win before 11:59 P.M. EST on Friday, June 15th. If you have any questions, please leave a comment below.  Thanks for participating!
Congratulations to Giveaway Winner Nola W.!
a Rafflecopter giveaway

Follow @svyschcounselor
Related Posts via Categories