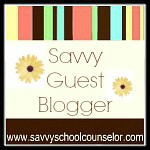 Well, the past two months have been like a whirl wind!  I thought I'd never get back to blogging!  Now that things are finally slowing down, I want to get back on track.  Of course I'm wishing I was in Philly right now, but previous plans to surprise my daughter with a Walt Disney World Vacation took financial priority.  Now all I can say is:  Orlando or BUST!!  I will be attending the 2014 ASCA Conference in Orlando, Florida.  In the meantime, I've got a summer vacation to enjoy and blog posts to write!
I mentioned on my Blogiversary post that I wanted to begin inviting guest bloggers to post on Savvy School Counselor.  Guest blogging is great for bloggers who have recently launched their blogs or for those who are thinking about starting a blog.  I'd like to begin sharing guest posts this summer.  So, I want to take this time to share how you can become a Savvy Guest Blogger.
If you would like to submit a guest blog post, please adhere to the following guidelines:
Share an idea, lesson, display, book, or anything useful to the Savvy School Counselor audience. 

Your post should be original, well written and edited.
Include a 1-2 sentence bio which may have up to two links to your website or social media outlets.
Submit your post in a word document and attach any pictures separately.
Any post published on Savvy School Counselor becomes my property and may not be duplicated on any other blog including your own.  You may link to it from your blog and from any social media.
Guest bloggers should respond to any comments to their blog posts.
Please note: Submissions that do not meet these guidelines will not be published.  Moreover, all submissions posted will be done so at the discresion of the webmaster.  A submission does not guarantee your article will be used.
If you have a submission or an idea you are thinking about and want to make sure it will work for this blog's audience, simply send me a message through my contact page letting me know you would like to send it.
Additionally, please don't feel as though you must work in the elementary schools to be a guest blogger.  I'd love to have submissions from the perspective of middle and high school counselors as well.  I would also LOVE to have some seasoned bloggers as guests too!
Stick around!  You can follow Savvy School Counselor with free email updates.  You can also follow my TpT Store to keep up with my latest products and freebies.
Follow @svyschcounselor