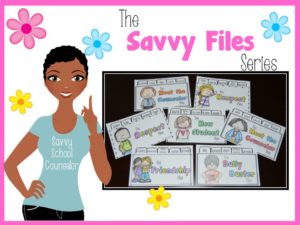 I am excited to launch The Savvy Files Series.  This ongoing series is a group of "file" activities created around various school counseling topics.  Most of the packs will include both a primary and intermediate version.  I have said, and will continue to say in each pack – you of course know your students best and will know which version is most suited for their specific needs.  In my mind, primary may be used for K-2.  Intermediate may be used for grades 2-5.  As a former second grade teacher, I feel as though second grade falls right in between and can go either way in some situations.
These activities are great for all methods of delivery:  Classroom counseling, small groups and individual sessions.  You may choose to prep them ahead of time for your smaller sessions , but only if you want to.  The general idea is for students to do the creating.
So far, five "Files" have been released.  Be sure to download The Friendship Files – FREEBIE from my store.  This pack is free to give everyone the full idea of how the packs are set up.  This pack only contains an intermediate version.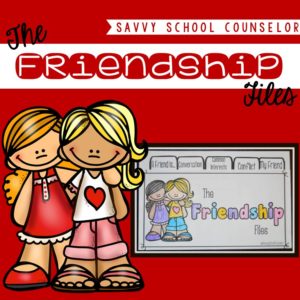 This series is ongoing and each of the packs will be released as they are completed.  So far, along with The Friendship Files, I have released The Bully Buster Files, The Meet the Counselor Files, The New Student Files and The Respect Files.  A list of forthcoming files is included in the FREEBIE.  I also ask that you email me with any ideas you may have for future Savvy Files packs.
Stick around!  You can follow Savvy School Counselor with free email updates.  You can also follow my TpT Store to keep up with my latest products and freebies.  Additionally, I do giveaways through My Facebook Page with my new products.  Be sure to like Savvy School Counselor on Facebook and click to receive notifications so you don't miss them!  (There's one going on right now by the way!  It ends at 6:00 EST this evening.)
Follow @svyschcounselor