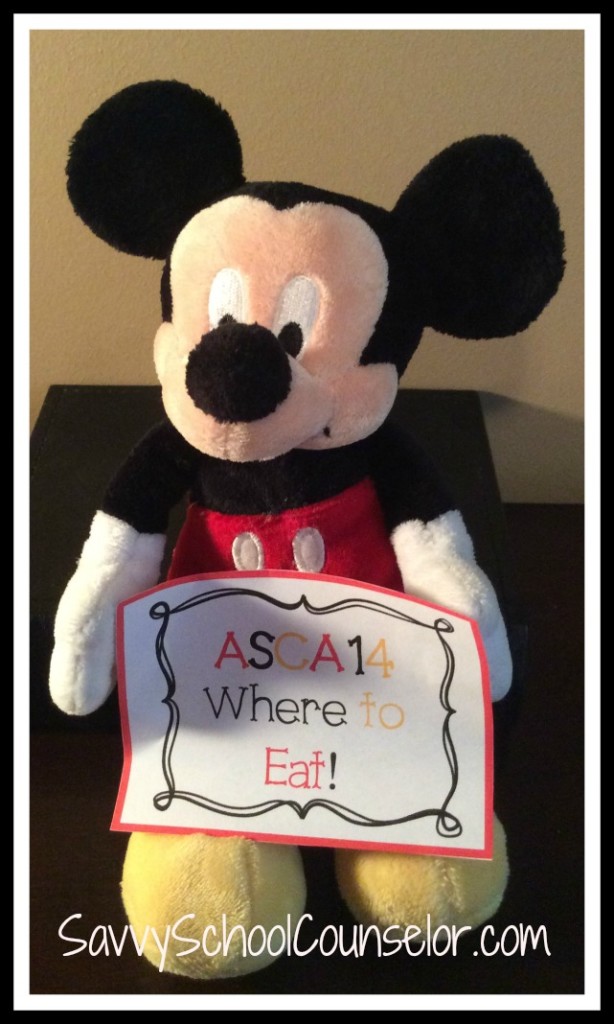 If you've ever read my About Me page, you will already know that I am a big Disney FANatic!  This will be my first ASCA conference, but when it comes to Walt Disney World- I'm home!!!  So although I can't yet contribute to the ins and outs of an ASCA Conference, I can give some tips about navigating "The World."  So, I thought I would give conference attendees a taste of some of the quick service restaurants available at and close by the Swan and Dolphin.
First of all, a quick (or counter) service restaurant is one where you can simply walk up to a counter, place your order, take your food and find a table to eat.
If you are looking to stay onsite at the hotel and not venture out into "The World,"  there are a couple of places you can pop into at your leisure.
Picabu is located in the Dolphin and is open 24 hours a day.  It offers breakfast daily from 6 A.M. until 11:30 A.M.  You can also purchase pre-packaged items here from refrigerated cases such as sandwiches, desserts and salads.
Check out Picabu's Breakfast Menu.
Check out Picabu's Lunch/Dinner Menu.
Splash is located in the Swan near the pool.  It offers pizza, soups, salads and sandwiches.
There are several table service restaurants also located at the Swan and Dolphin ranging from causal dining experiences to signature dining.  Table service restaurants have servers and you should be prepared to give a gratuity based on the level of service you receive.   Some of these may require ADRs (Advance Dining Reservations) to guarantee seating.  For more information about dining at the Swan and Dolphin, check out this link.
If you ARE ready to venture out,  a nice stroll to the Boardwalk area may be up your alley.  There is a walkway from the Swan and Dolphin that will take you there.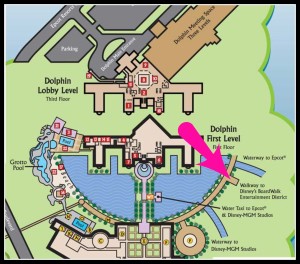 The Boardwalk Bakery offers quick service for breakfast, lunch and dinner.  Here, you will find soups, salads, sandwiches and lots of sweet treats!  Click this Boardwalk Bakery link and then click view menu to see a complete listing of what's offered.  Just use the drop down arrow at the top to see the different menus.
The Boardwalk Pizza Window is open from noon until midnight and offers pizza by the slice and whole pizzas.  Click this Boardwalk Pizza Window link to see the menu.
There are also several snack carts in the Boardwalk area with various offerings such as hot dogs, pretzels and funnel cakes as well as popular table service restaurants like Flying Fish Cafe, Kouzzina by Cat Cora and the ESPN Club.
Finally, if you REALLY want to venture out, hop on the complimentary Disney Transportation and head to Downtown Disney.  There are several options to choose from.  Two of my FAVORITE counter service restaurants are located there.
Wolfgang Puck Express has never disappointed me!  It's a quick service location with a table service feel.  You place your order at the counter and your food is delivered to your table. There is a nice variety of offerings here from soups, salads and pizza to bacon wrapped meatloaf.  Check out the Wolfgang Puck Express Menu.  This restaurant is located in the Marketplace.  There is also a Wolfgang Puck Cafe on the West Side which offers table service.
Another great option in Downtown Disney's Marketplace is Earl of Sandwich.  This is another place that has yet to disappoint with it's variety of sandwiches and wraps.  Check out the Earl of Sandwich Menu.
Along with these two great choices are a variety of table service locations and snack windows.  There is Wetzel's Pretzels, Rainforest Cafe, Planet Hollywood and Ragland Road.  Check out the Downtown Disney Dining options.
Not only is there great food, you can shop and enjoy some of the fun entertainment in the Marketplace.  You can also go bowling at Splitsville or catch a movie at the AMC Theatres on the Westside of Downtown Disney.
If you're hitting the parks, like I will be after the conference, and want to know where to eat…catch me at the conference and I can give you some suggestions!
Stick around!  You can follow Savvy School Counselor with free email updates.  You can also follow my TpT Store to keep up with my latest products and freebies.
Follow @svyschcounselor